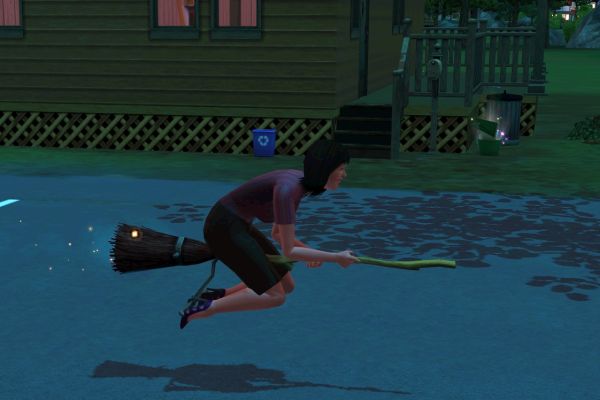 Young witch Harriet Porter knows how to fly a broomstick! 
Supernatural was the other expansion pack for The Sims 3 that I bought on the big sale in March, but did not install until September. There was a reason for that, of course. In this case, the reason was the zombie apocalypse. From the early days of the expansion, there were numerous horror stories about the game devolving into a desperate struggle for survival as endless waves of zombies rose from the ground all day, all week, turning all the nonplayer characters in the game into zombies as well.
This turned out to be a bug caused by saving and exiting the game during full moon. (It is a game feature that zombies appear during full moon, although they are supposed to revert the next morning, and certainly not spawn continually until you move your family to a new town.) Evidently none of the beta testers had tried this… Anyway, EA later patched the game, but my skepticism remained. Besides, I had plenty to do in the game as it was, and I am not as much of a gamer as I used to be, I guess. (Well, if you don't count the 2-3 hours a day I traipse around outdoors playing Ingress. But I count that as exercise, sounds more virtuous than gaming.)
Eventually, I decided to give Supernatural a chance, since the game was ruined anyway by Seasons. (This was before I turned off rain and thus the frequent thunderstorms which made it risky for my sims to go outdoors.)
Supernatural was a pleasant surprise! It actually makes the game easier, if you have a supernatural character in the household, but not so easy as to be an "instant win button". Each of the supernatural races has its own benefits, and there is a new alchemy craft that is very powerful but challenging at higher levels. You can now also create three of the earlier supernatural types, which in the past had to join the family during gameplay: Ghosts, genies and vampires. Vampires are slightly improved from the Late Night expansion. New types are werewolves, witches and fairies. Alchemy is available for all sims, even the plain human type.
EA has done a good job of making alchemy different from the two previous liquid amplifiers, mixology (drink mixing) from Late Night and chemistry from Generations. Alchemy is generally the most powerful and varied, but requires special ingredients instead of just time and skill. Of course, if you have maxed all three skills, you are well into superhero territory. Actually since the drinks, concoctions and elixirs are sharable, you could have three members of the household work toward one skill each and all could enjoy the results. Even with these boosts, however, your sim is still vulnerable to lightning strikes and the occasional meteorite.
Werewolves are the least super, and most natural, of the new sim types (or "life states" as the game calls them). In fact, if you turn off the lunar cycle (which you can do in the settings panel) your werewolf could go through life thinking themselves a normal sim, just blessed with a hidden talent for athletics and a longer than average natural lifespan. (Much like my own family, now that I think about it…) But come the full moon, the truth can no longer be hidden: Your sim transforms into a shaggier version with an uglier face and bigger teeth, and starts loping around on all fours. You can also trigger this transformation at will once your were-sim is at least a teen, but you cannot transform back during full moon.
Werewolves tend to transform if angry and win fistfights reliably. They also have a bizarre "hunting" skill that is actually collecting. They can "hunt" for insects, gems and seeds on a particular lot. The outcome is somewhat random, but increases with their skill. They level up through transforming, hunting and howling at the moon. They can hunt in packs, but this is a lot of stress to organize unless you have a werewolf household. (Which you could get through normal breeding – the trait is inheritable – or biting your roommates to turn them into werewolves.)
There are few downsides to being a werewolf. Left to themselves they will occasionally rummage through the garbage bin, scratch the furniture and sniff other sims inappropriately, but it is a small price to pay for living 50% longer and dragging home many of the ingredients needed for alchemy.
Whereas anyone can brew elixirs, only witches can cast most spells. Your sim can be born a witch, or gain the ability through an elixir. They will learn new spells automatically as their power increases, which it will by casting spells or playing with magic, basically making small visual effects with their wands. Yes, witches need wands, and the quality of the wand influences their chance of success. So does having a familiar (cat or smaller animal) around.
The witches have a magic (mana) meter, much like mages in sword and sorcery games. The higher the reserve, the better their chance of success at difficult spells. If a spell fails, the result could be a fizzle or the opposite of the intended effect. For instance, the most basic spell is conjuring an apple, but a failure could cause a poisonous apple to appear. Luckily you can see the difference at a glance. And since your witches soon learn to transform any small object into another (random) object, the poison apples could end up becoming a gem, a seed, or even a fish in a bowl!
At the highest level, a witch can raise the dead as zombies. This sounds like a dubious activity, but luckily there is also a powerful healing spell that can heal zombie-ness. So with two successful spells, the witch can bring your dead sim back among the living. Of course, should the spells fail, the cost might be dire for the witch…
Zombies may not be fast runners, and not the brightest candle on the menorah, but it may not be a fate worse than death either. Apart from shuffling around trying to bite their fellow sims, they seem to more or less go about their lives, just more slowly. They don't exactly kill their victims either, but there is a definite risk of becoming a zombie if you have one gnaw on you. Zombies can not be created in the Create-a-Sim, but can be created by elixir or spawned at full moon.
In contrast, vampires seem to enjoy their undeath a great deal more. They have all their superpowers from the Late Night expansion and more interactions, and you can now make sunscreen for them with alchemy. (If you don't have Late Night, no worry, you can still have vampires with Supernatural.) There is even a lifetime happiness reward that make them immune to sunlight and stops their aging completely (they already age very slowly). This reward makes them glitter conspicuously, though…
The final new sim type is fairies, which has the five times longer adult lifespan of the vampire, none of their aversion to daylight, some spellcasting powers and the ability to run auras that benefit themselves and those around them. They also come with Green Thumb as a free bonus trait. Oh, and they can repair things without the handiness skill. Also, they can fly. All in all a pretty good package, offset by a tendency to play pranks on everyone unless you keep a close eye on them.
If you get the impression that fairies seem ridiculously overpowered, that is not far from what I try to say. The epic lifespan alone is a force to be reckoned with: Plop down a family-oriented fairy couple on a lot and go play another family, and after a few generations there are wings everywhere. Fairy children grow up as fast as other kids, but their adult lifespan lasts for generations. (So do the vampires, to be honest, and they also tend to take over town. But they have some pretty harsh drawbacks, while fairies have a great time and only irritate those around them.)
All in all, Supernatural adds a great deal of variation to the game, makes it somewhat easier if you "milk" the new features (and if you have patched it to avoid zombie apocalypse), and is as close as we come to a "superhero" expansion pack for those who develop their characters to the utmost. Surprisingly this expansion shoots up to one of my all-time favorites. Recommended!