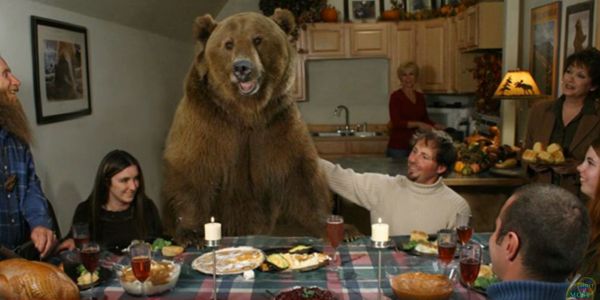 Image taken from YouTube video "15 awkward families you won't believe actually exist". The places we will go for our readers… It will all make sense at the end, trust me. 
Anyway, I'm still alive, long may it last. Actually, that's what I'm writing about today.
My native Norway is frequently mentioned as the world's best country to live in. And that is probably true if you are a Norwegian, as I am. I am sure most Americans would rather live in America and most Israelites in Israel. Most of my American friends are already vaccinated against COVID-19, while I am not, despite being 62 years old and having paroxysmal atrial fibrillation, a condition associated with severe comorbidity with COVID-19. (Oddly enough my asthma seems to have no such effect.)
But real soon now, on April 29th, I am slated to receive my mRNA vaccine. (The two readily available vector vaccines, from AstraZeneca and Johnson&Johnson, are put on hold indefinitely in Norway because they can cause a fatal autoimmune response in women of fertile age. You don't mess with our women without someone getting punished. In this case us. Countless men and older women will have to wait longer for their vaccines.) But finally it is my turn. Except of course it is not without a twist.
***
I am not the author of this world, or even the main character. But I am the viewpoint character, the observer who collapses the wave function and open's the box to see whether Schroedinger's cat is alive or dead. And it gets personal when the cat is me, and I am about to open that box.
You can't have a good story without some drama to test the characters, they say. But sometimes this plot point can seem a bit contrived. Just look at this.
I live in Mandal, a sleepy little town on the south coast of Norway. The vaccination center for our town is within walking distance from my home. Not close, certainly, but enough that I would walk there with some regularity to change ownership of the Ingress portal there, back when I played Ingress. So not extremely far. I reasonably assumed that I would go there to get my vaccine, and then go home. But that would not be much of a plot twist, would it?
No, our benevolent government has instead given me an appointment on the opposite side of the nearest city of some size, Kristiansand, roughly an hour and a half away by bus. And bus it is, since I have not needed a car before the pandemic, and a pandemic is not really the time to start learning to drive a car. I could take a taxi, which would cost a lot more (taxi rides are very expensive in Norway) and still carry the risk of infection, just from the driver instead of fellow passengers. There's no keeping distance in a taxi.
Luckily, Norway has been one of the least infected countries outside Oceania, with its sensible government, affluent population, and lots of space. We're currently coming down from our fourth wave of the disease, but they have all been moderate by global standards, and we're almost back down to the level before this wave and the last. So the risk should not be too great? Of course I signed up. The alternative was to go to the back of the line, probably in September sometime.
PLOT TWIST! A wild contagion appears! ("Wild contagion" is the literal translation of the Norwegian word "villsmitte". In English it is called "community transmission", which sounds like a collaboration project for making car parts. English is weird, y'all.) Suddenly after I signed up, my quiet little town has its biggest outbreak since the first wave, enough to make it to national newspapers. The Norwegian Institute of Public Health is intervening, there is mass testing and quarantining of contacts, but new cases keep popping up and one health worker is already dead. It is quite Texas here. Meaning anyone boarding that bus along with me could kill me just by breathing. (Unless they were a mask, which very few Norwegians do because it is traditionally associated with crime.) SUSPENSE!
***
As insane as this all seems, I have a pretty good idea of what happened. It is not simply the bureaucracy randomly doing random things. Rather it stems from the way the Norwegian primary health care is organized, with each citizen being assigned to a default doctor. You can choose another one, and you get to choose again every time you move. I lived in the rural municipality of Søgne, between here and Kristiansand, for over 20 years, and got my regular doctor there. That's the guy who think most problems can be fixed with more exercise, and he is probably right about that. I have at least never had any compelling reason to change, so I kept him even when I moved here. It is certainly not within walking distance, but not very far either.
Last year there was yet another poltically induced reform, merging municipalities, especially towns absorbing the nearby rural communities. Søgne was eaten by Kristiansand which is bigger than Mandal. (Mandal got the villages west of it, and changed name to Lindesnes since tourists know the name. I still say Mandal.)
The government has probably assigned vaccination destination based on where my regular doctor is located, not on where I live. The reason for this is that the regular doctors were asked to go through the lists of citizens and see if there were any who should go ahead in the line. That probably happened to me, because of the heart troubles: The schedule for my municipality says that the last of those over 65 would be vaccinated the first week of May, and I am 62 and it is still April, just barely. So my turn would probably have come sometime in May, if not my friendly regular doctor had remembered me and recommended I be pushed a few weeks forward in the queue. Little did he know that he risked my life by doing so. If I had declined my appointment, I would go to the back of the line, which is currently estimated to be September sometime.
***
A unique Norwegian expression, as far as I know, is "bear service" (in Norwegian "bjørnetjeneste"). It is based on the story of a guy who raised a bear cub. The grown bear was quite fond of the man, and one day when he saw a fly land on the man's head, he decided to help by swatting the fly. Unfortunately he killed the man in the process. Based on this story, the expression has become a common part of the Norwegian language: To do someone a bear service is to try to help them, but harming them instead. It is quite common and I'm sure I've done it myself more than once. But obviously health care is one area where such services have extraordinary effects.
Then again, I may survive. It's happened before.