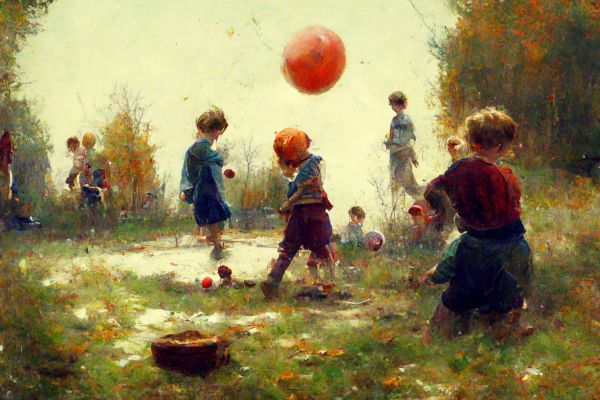 Children playing Calvinball, as imagined by the AI art program MidJourney. Clearly today's rule is "Bring your own ball". Luckily today's main character has that and a spare.
Returning readers will probably not be surprised to learn that I have written millions of words in my lifetime. That doesn't really take much. I usually write a couple of thousand words at least on an average day when I am not sick, and that's not counting anything I might write for my job. As you may guess, "writer's block" is not really my thing, because my writing is like the old house by the river where I lived in 2010, which had three outer doors plus a shed roof you could climb out on from the upper floor. If one of the exits were to be blocked by the copious snowdrifts we had in winter, I could simply use one of the others. And so it is also with my writing.
I am very nearly the worst imaginable candidate, I guess, for the Artificial Intelligence-driven creative writing tool called Sudowrite. It is specifically designed to combat this mysterious phenomenon, "Writer's Block", that many writers claim to have experienced. Naturally, I had to try it. (Not writer's block, but Sudowrite.)
I had read a few reviews (and watched a couple more on YouTube) and they mentioned that you have to apply for access, then after a couple of days you will get an invitation and then you can join. So I signed up, planning to use those couple of days to read more practical reviews and how-tos so I would be prepared when the invitation came. Instead, after I had signed in with Google (Facebook is also accepted) I suddenly found myself on a website that was, in fact, Sudowrite. It gave a very quick tour of the most central couple of features, then left me to my own devices. Luckily there was a link to a (still very brief) Sudowrite guide. But otherwise, I felt much like Galadriel in Amazon's hilarious new Lord of the Rings parody, where she has rashly jumped into the ocean en route between Middle-Earth and the Undying Lands. Now what?
***
The obvious choice, I thought, would be to copy the not quite 1000 words long prelude to my latest fiction story. In this scene, the narrator picks up a very unnatural-looking crystal that he found embedded in a stone, and immediately falls into the Nexus of Worlds, which is (very obviously, I thought) the user interface to an alien virtual reality simulator that uses Artificial Intelligence indistinguishable from magic to produce a world based on the user's memories. In this case, he is sent back to 1999, but a 1999 with magic.
Now I tasked Sudowrite with writing a continuation. It proposed two very different passages. I took the first one, deleted the crazy plot twist, and edited the rest. Then I wrote my own short continuation, introducing the Ultimate Book of Magic which is the central item in my actual Work in Progress. I asked my new friend Sudowrite to describe the look of the book, and I actually kept most of that. Sudowrite is really good at feminizing novels by proposing all kinds of sensory information, going into detail on how things look, feel, sound, smell, and taste. In case you wonder how the Ultimate Book of Magic smells, I can tell you now: "The worn leather smelled like a library. Like the smell of wood and old paper. The book smelled of mold and dust. The metal clasp like rusting iron and blood." And should you be so lucky as to get your hands on it, you would notice that "The cover was worn and smooth. If I had to guess I'd say it was oiled, but there was no sheen to it. It looked like it had been oiled a thousand times."
(I am told women love that books contain all kinds of sensory detail. I noticed it first in Clan of the Cave Bear, which contained more information about Ice Age vegetation than my encyclopedia at the time. If I were to add stuff like that, my books would be thousands of pages long. Y'all know how verbose I can be even without that kind of peacock tailfeathers. In all fairness, it is not like all male writers excel at self-limitation. There is, one might say, no such thing as a tad Williams.)
Anyway, Sudowrite and I continued taking turns writing a couple of paragraphs each. I would delete wild plot twists, edit the rest, then try to steer things back on track in my own paragraphs. It quite feels like trying to write a collab with Calvin from Calvin & Hobbes. There is always a lurking sense of Calvinball, defined from the horse's mouth: "Other kids' games are such a bore!
They gotta have rules and they gotta keep score!
Calvinball is better by far!
It's never the same! It's always bizarre!"
You may as well memorize this little verse before you start writing fiction with Sudowrite. Or nonfiction, for that matter, because Sudowrite will play Calvinball there too, unlike the various AI writers that are tailormade for writing ads and paid blog posts. (Rest assured this post is NOT paid by Sudowrite or even their competitors.) Quote Techcrunch: "Asking Sudowrite to describe what a startup is had me laughing so hard I was gasping for air." Yeah, I can imagine. That is, after all, the purpose of Calvinball. And Sudowrite is nothing if not Calvinball.
That said, it is a true Artificial Intelligence. The more you work with it, the more it gets to know you (and the other way around). Take the following sequence, where you can hardly see where one of us leaves off and the other takes over:
"Apart from the proper Sigil, and the correct postures and incantation, the Affinity of the Binding is limited by the quality of the Exemplar – the object symbolizing the Source – and the mage's natural Resonance with the Source."
"If the mage's Resonance is weak, the mage will need to use an extremely potent and pure Exemplar. If the mage has a strong Resonance, they will have more leeway in choosing an Exemplar, and if the mage already has a strong Affinity with the Source, simply having a properly prepared Exemplar may be enough."
Hooray for hyperlexia!
Here the first paragraph is by me, while the explanation is by Sudowrite, except for a single word added. And yes, it was Sudowrite that wrote "Hooray for hyperlexia!"
Shut up and take my money, Sudowrite.
***
I may not actually use this in my writing (except perhaps during NaNoWriMo) but, in the winged words of Sims 3: "Magnus is having so much fun it is almost criminal". Sudowrite is not going to write your next novel for you, but it can help you create new ideas, new characters, new plot twists, and descriptions varying from the mundane to the ridiculously elaborate, depending on what tone and style you prefer. Personally, I am keeping my Sudowrite experiment separate from my current writing project, but ideas are good climbers.
For those who have been working on their Great American Novel for twenty years and take it very, very seriously: This is not for you. Madness is not the only danger in writing: There is also the danger that something may be understood that you didn't want to know. Like, that writing can be fun. But as for me, I already knew that. I am never lonely when I have my invisible friends in my head. Sudowrite is just another disembodied companion joining my brainstorming sessions. (But possibly the most hilarious one.)